Last weekend we joined the 7th German Sand Meeting in Lauterbach, Black Forest area. It was the first time we took part in such an event and we will never regret it. For long time we didn't decide whether to go or not since it supposed to drive about 700 km way and back but we just decided to give it a try. At the meeting we met lots of interesting people sharing the same hobby, joined a one-day excursion and traded sand – what else can you wish more?!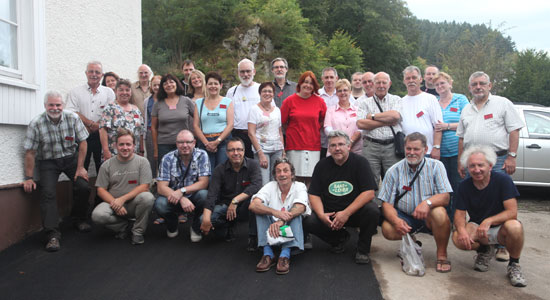 Group photo at the 7th German Sand Meeting in Lauterbach, Black Forest
DAY 1
On Saturday, 3-Sep-2011 we met at the hotel and got to make the first contacts. Everybody looked very excited about the days to come and we gladly exchanged the first ideas (the bus was almost one hour late so we had plenty of time to do that). Around midday we left Lauterbach and after half-hour ride we reached the first destination: "Mineralienhalde Grube Clara", the biggest public mineral stockpile in Europe, as you can read on their homepage. The place is just an intermediary deposit station for the baryte and fluorite ores that are extracted from the nearby mine and transported 13 km away for further processing. The material extracted from the mine is temporarily discharged onto the site where hobby collectors search for their rare minerals.
We had great fun searching for special sands and despite the killing heat we could say that this was an unique experience for any of us. The sands collected must be washed in order to reveal the mineralogical secrets and I just can't wait to do that…
From the Grube Clara we continued our journey to the second spot of the day, a stone pit very close to the French border. The quarry of a volcanic origin consists of some reddish tuff covered at the top by sedimentary layers. The interesting part was the presence of some "balls" of material of different consistency and color which had a high concentration in olivine, highly appreciated therefore by all sand collectors.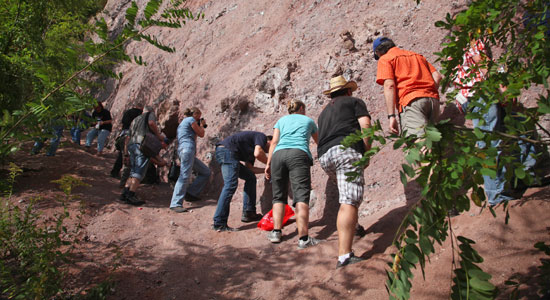 After getting some samples from the material fallen down at the rock's bottom we returned to the hotel and had a nice joint dinner.
DAY 2
Sunday was the "Dutch trading day", maybe one of the nicest sand experience ever: each sand collector received a table for the display of his/her exchange samples and everybody was free to take as many samples from the other collectors as wanted, without any restrictions or conditions. Although the most interesting samples disappeared very quickly, I even didn't know what to chose first: hundreds (if not thousands) of sand samples from different locations just asked to be taken home. I carefully selected several sands that I didn't have in my collection but soon I found myself with more than 100 samples in my hands. Meanwhile, my own samples disappeared too very fast and only 15 samples remained out of 170 (great feeling to know that my sands were considered valuable by so many people). Well, just before the end when most of collectors already packed their stuff away, a Dutch collector just came to me and offered me a huge box with at least 200 sands from his trips to Spain and Portugal (Jan, if you read this post, please receive my deepest thanks!!!)
All in one, we had great fun during the whole weekend and couldn't wait to return home for processing the new sands. Now we have plenty of new ideas for our next sand book whose first edition was, by the way, a great success too. We actually did not intend to sell it but three people asked for a copy despite the rather high price so we have now to order some more copies.
At the end of my post I'd like to thank especially to Hans and Frank for their great efforts in organizing this event, to Hermann from the German Sand Museum who run the whole meeting under his patronage, as well as to all other sand collectors who welcomed us and shared with us their experience and love for sand. Last but definitely not least a big hello to Diotima and Bernard whose joy for life did greatly inspire us (Bernard, I wish we'll have a small Helmut too someday… :)