The best software I know so far for collections management is Collection Studio, a nice application developed by collectors, for collectors. Although not dedicated exclusively to sand collectors (one can manage any kind of collection with CS), the program has nice features that go very well with my needs. Among others, here are some headlines:
Import option
First important option is the "Import" tool, which means you can easily import your Excel lists without being necessary to enter each sand sample one by one. The formats supported are comma-separated and semicolon-separated (.csv files), tab-separated text document (.txt) or XML tables (format .xml). The most easiest way is save your Excel list as .csv file (I suggest semicolon-separated) and use the import feature of the program to do the rest.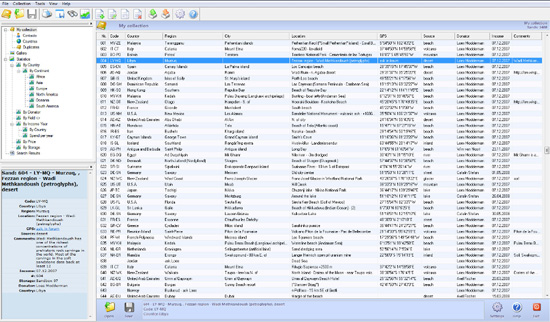 Create your own fields
Do you have fields such as "country", "continent", "region", "exact location"…? No problem to create exactly the same fields into CS so that you can keep managing your collection in the same way as before.
Comprehensive data storage
Beside the customized fields described above, the software offers the possibility to attach additional information to each entry, such as: external documents (with common extensions and the possibility to call the respective document directly from the software), external html links, photos and extended comments (with text formatting options). Additionally the program can assign an automated ID, let you select the storage unit (in case you store your sands in shelves, boxes etc), income date, trade partner, leftovers for trading purpose or name of the donor (automatically creating a full contact card into the contacts field) etc.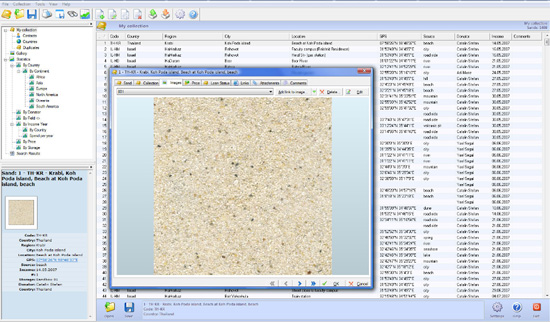 Contacts database
Contact details of each trade partner or sand donor can be easily stored into the software and a listing to the respective samples is created automatically. Common info such as address, email, phone number etc are very easy to enter and you may add a photo, link, website address or personal comments at your liking (I usually keep here detailed record of the trade: how many samples, total weight, date sent, date received etc.)
Statistics
You will definitely enjoy to see a world map with "active areas" (countries where you have sand from) and "gray areas" (missing countries), don't you? You can do this for the whole world or for each continent separately and be able to see a complete overview of your collection: total number of countries, countries with sands, missing countries, percentages, no of samples per country etc. The view can be extended by selecting to display statistics by trade partner, incoming year, storage unit or just another specific field chosen by yourself. And by the way, also countries flags are displayed so the lists look pretty cool… (as a note, the country database contains countries that do not exist anymore – such as USSR for example – but which are important for collectors of coins etc. You have the possibility to keep in the list only the desired countries and also to add new ones if you feel necessary). And I forgot to mention the automatically generated trade list in case you filled in the trade amount for each sample.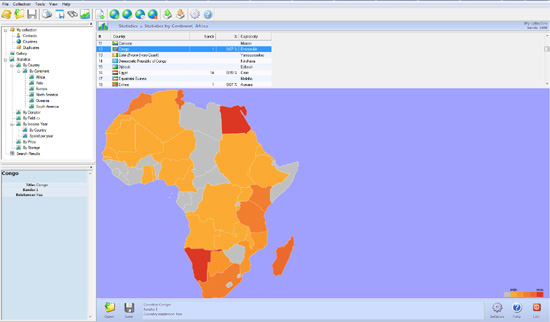 Filter
You may sort out your collection by any column you like in ascending or descending order but you also have a nice tool to filter the data after custom rules and combination of rules. Very useful…
Export
Exporting your collection table back into Excel is just a matter of pressing a button. The export tool generates ASCII text files but also .csv, .sql, Excel (.xls) and even html (for websites).
Backup and password protected collection
Automatically generated backup file is saving you lot of transpiration when the may file gets corrupted. You can also password protect your collection if you like.
Multilingual software
The software comes in a multilingual package, as per today 20 languages being available (incl. EN, DE, FR, ES, IT, PT, NL). Check whether your language is in the list and if not, you may contribute to translating the software into your native language and receive a copy of the software for yourself.
——

DOWNLOAD Collection Studio!