Today I've got the idea of having a closer look into my collection and after some playing around with numbers I decided to share them with you. Here are the results as per February 8, 2011:
Top 10 countries
This is the chart with top 10 countries represented in my collection. As expected, Germany is on first place with 287 sands, while an important part of the samples are self collected (43%) and the rest gathered from trades (57%). Israel is occupies the second place with 136 sands (almost all self collected within six months in 2007), followed by the U.S.A. with 133 sands (I have visited U.S. once but got only 2 samples since the time did not allow much sand collecting).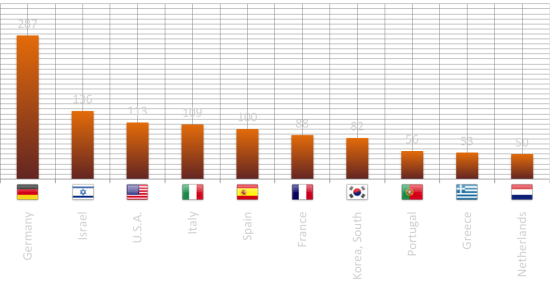 Collection growth rate
My sand collection is rather new, with the first sample added on May 14, 2007. Over these last four years 53 people kindly contributed with sand, both gifts from friends as well as "serious" exchange with other fellow collectors. A big advantage has been given by the small amount collected (about 6 ml) which allowed me to increase quite fast the number of samples. The most "successful" year was thus 2007 with 699 sands, followed by a less profitable 2008 with only 333 sands, 527 sands in 2009, 573 in 2010 and already 51 sands in the first month of 2011.

I will try to add more common statistics in the future (for instance with the origins of my sands: beach, desert, river etc). A bit latter will follow a series of more scientific analysis of my collection as I am very interested in several other aspects: what is the relationship between the sand type (biogenic, mineral) and the place of origin, or the distribution of sands along meridian lines. I also have some other ideas so keep visiting the website more often.