Perhaps one of the most impressive moments during our trip to Harz mountains was visiting the Iberg Dripstone Cave (Iberger Tropfsteinhöhle). The cave is located on the western side of the mountains near Bad Grund city and is formed within a chalk deposit, a former coral reef about 385 million years ago. The cave was discovered in 16th century by miners but only opened to the public access in 1874.
In 2008, the cave administration opened the so-called Cave Experience Center with three components:
Museum

in

the mountain (Museum im Berg) – a long gallery before the cave entry with nicely designed panels showing the formation of Iberg Dripstone cave from a coral reef and the movement into actual location.
Fascination cave – the cave itself (partially opened to the public) with amazing dripstone formations
Museum

on

the mountain (Museum am Berg) – the most impressive part of the complex: an extraordinary journey through the life and existence of ancient people living in a nearby cave.
The 30 minutes spent inside the cave were more than worthy but the museum installed outside topped them all: absolutely lovely way of combining graphic elements with informational content for waking up the visitors interest: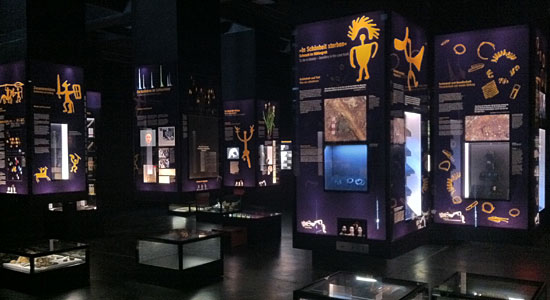 Inside the museum at Iberg Cave Experience Center
The museum focuses on a very exciting theme: human skeletons of 40 people have been found in another cave (Lichtenstein cave) located not far away from the complex. The group was a family clan living about 3,000 years ago in the Bronze Age, the cave having most probably a graveyard function. The most exciting part is the DNA information collected from the bones: it perfectly matched the DNA structure of 15 local people living nowadays nearby the cave. This amazing discovery has been reported as the "oldest family tree on earth" with direct genetic links over a time span of 3,000 years. Moreover, using modern techniques, the scientists could re-create the upper body parts of three members of the family clan. The exhibition at Iberg Cave Experience Center shows detailed information about their daily life, food gathering and preparation, plant and animal rests, tools, etc. And everything displayed in an absolutely professional manner – we highly recommend a visit to anyone travelling to Harz region.