Today we did another hike in Saxon Switzerland mountains (Sächsische Schweiz) just less than one hour drive from Dresden. Together with the Bohemian Switzerland (Böhmische Schweiz), the area belongs to the Elbe Sandstone Mountains (Elbsandsteingebirge) and it represents the preferred weekend destination for most nature-lovers from Dresden and surroundings (see also my previous post about the Sächsische Schweiz). This time the sandstone mountains offered me a very nice surprise: a weathered sandstone outcrop (photo below) exposing sands of several colors and patches.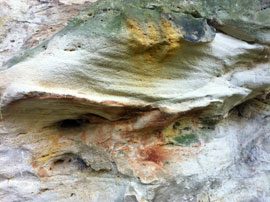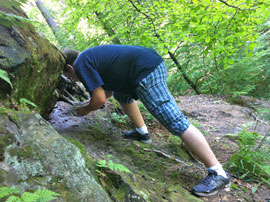 To my excitement I could collect not less than 10 (ten) different sands from only one single location!!! I couldn't wait to take a quick snapshot and share it with you, although the sand must be now dried before filling the vials (some samples are still wet).

Perhaps shall I add here that all samples (about 10 ml each) have been collected from the loose material fallen on the ground without any disturbance of the original sandstone rock.